Disney Plus is one of the best on-demand streaming services on the market, having amassed more than 150 million subscribers. Its main draw is that it allows you to access all its content without paying extra money and download as many videos and shows as you like. Even so, the download function is only available on the mobile device and the downloads can only be played on your phones. You are unable to transfer the downloads to other devices because they are encrypted by Disney Plus.
Is there any solution to break up this limitation and make the same movies playable on a new device without repeated downloading? Definitely yes! It is possible to achieve when using VideoGo All-In-One. It can help you achieve the purpose of transferring Disney Plus videos between devices easily.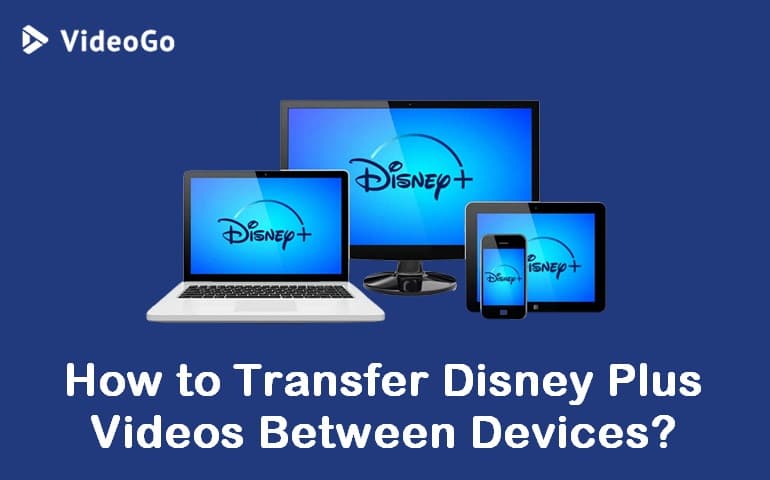 What is VideoGo All-In-One?
VideoGo All-In-One is designed for downloading videos and shows from a number of sites and providing people with more convenient and efficient downloading experience. It supports downloading movies and series from video streaming services, like Disney Plus and Netflix, even if your subscription plan does not allow you to download any content. Plus, it features the ability to download videos from social media platforms for free. You can download any video from YouTube, Facebook, Twitter, XboxClips, CBS, Dailymotion, TikTok, Vimeo, etc.
Why Choose VideoGo All-In-One?
It can download HD videos and movies with audio tracks and subtitles preserved in different languages. The video quality that can download may differ depending on the platform, like videos from Disney Plus can be downloaded up to 720p. VideoGo All-In-One allows you to download videos and movies in a compatible format, MP4 or MKV, so that you are able to transfer them to any device you want. In this way, you'll no longer have to worry about the downloaded videos that only be viewed in the Disney Plus app. Last but not least, the program has been completely upgraded and its download speed has been greatly improved. A movie can be downloaded in only 20 minutes.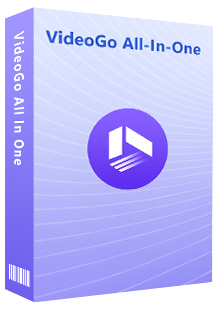 VideoGo All-In-One
A comprehensive tool for downloading unlimited videos from multiple streaming sites with ease.
Directly download movies and TV shows from Disney Plus website.
Support downloading HD videos (up to 720p) from Disney Plus.
Save Disney Plus videos as MP4 or MKV files.
Preserve original audio tracks and subtitles in multiple languages.
Play the downloaded videos anytime, anywhere without limits.
Download
Download
How to Transfer Disney Plus Videos Between Devices?
Step 1

Select Disney Plus as the Target Site

Download and run VideoGo All-In-One on your computer first. You will be prompted to choose a video-downloading website when you launch VideoGo All-In-One for the first time. Select Disney Plus as the target website and then the program will automatically jump to the corresponding search interface.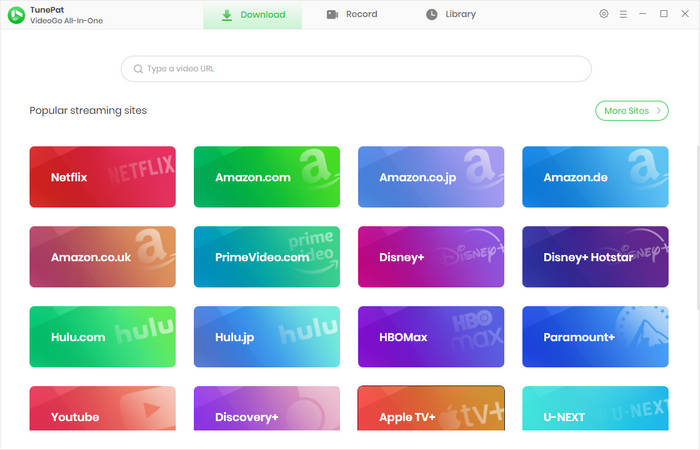 Step 2

Log in to Disney Plus Account

After selecting the website, you need to log into your Disney Plus account. Type the video name or other words in the search bar and a window will show up, asking you to log in.

Note: VideoGo All-In-One doesn't support the Disney+ Hotstar account and a Kid Profile.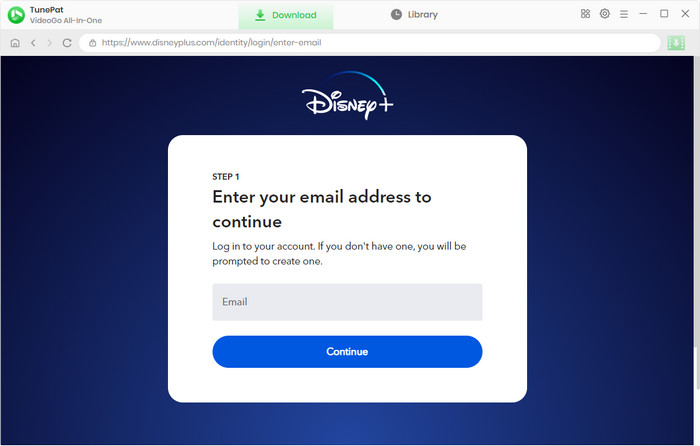 Step 3

Choose the Output Settings

You can set your video in the "Settings" window by clicking the "Gear" icon on the upper right corner. You can customize the video format, video quality, audio language, and subtitle language. The subtitles and audio can be completely saved during the download process, including 5.1 surround audio (if the video provides) and AAC 2.0 audio.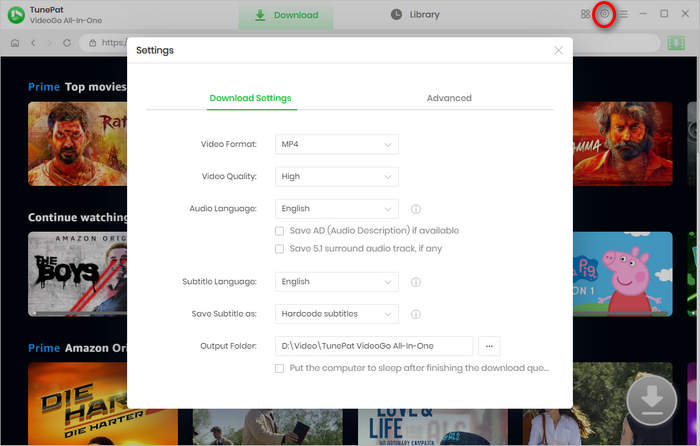 Step 4

Search for the Video

VideoGo All-In-One empowers you to search for the content in two easy ways instead of installing the Disney Plus app. Just enter the name or keyword of the video or copy the specific URL from the official website into the search bar. The program will quickly search the results for you.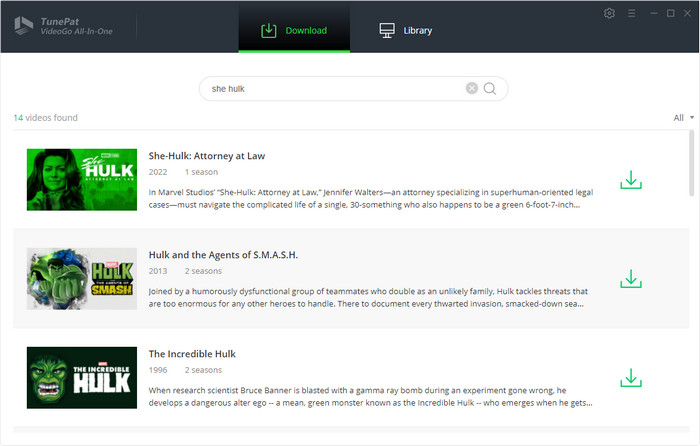 Step 5

Select the Title, Video Quality, Audio and Subtitles

The program enables you to customize your video through the Advanced Download settings. You can select more specific video resolution, more audio languages and subtitles languages. You are also allowed to download video, audio, and subtitles separately.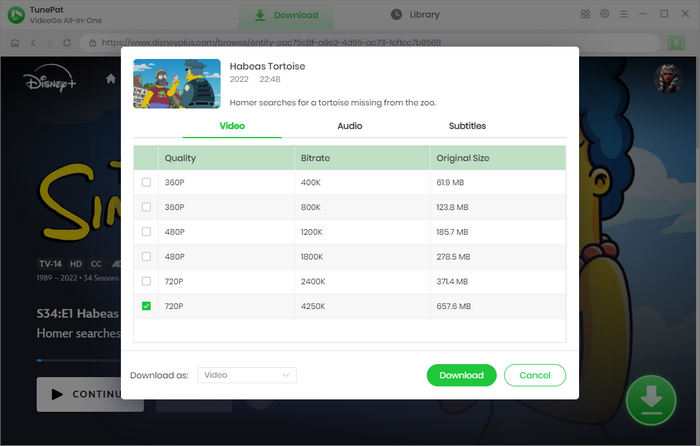 Step 6

Download the Videos

Once you have selected the videos you want to download and set them up, you can click the "Download" button to start downloading. During the download process, you can continue to add the videos. When finished downloading, tap "Library" to check the downloaded videos. You can find the corresponding video files according to the output path set in the "Settings" window and then transfer them to any device you want.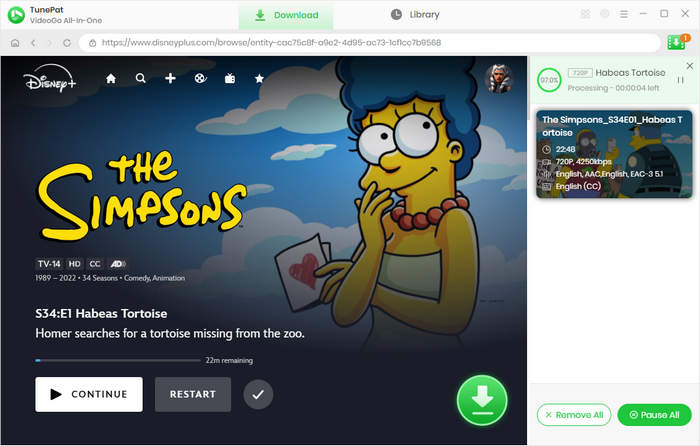 Final Word
Still struggling with how to watch your downloaded Disney Plus video on other devices due to its encrypted video file? Don't worry. VideoGo All-In-One, a powerful video downloader is dedicated to providing a hassle-free downloading experience. It can download Disney Plus videos and movies in a widely used format, MP4 or MKV, allowing you to transfer them to any other device.
Note: When downloading videos from streaming sites including Netflix, Prime Video, Disney+, Hulu, HBO Max, Paramount+, and Discovery+, the free trial version of VideoGo can only download the first five minutes of each video. To unlock the limitation, you are suggested to purchase the full version.