YouTube, the world's most popular video-sharing platform, offers an extensive library of content that caters to a wide range of interests. However, the presence of ads can sometimes disrupt your viewing experience. Fortunately, there are ways to watch YouTube videos without those pesky interruptions. In this article, we will explore three effective methods to enjoy ad-free content: upgrading to YouTube Premium, installing an ad-blocking web browser extension, and using the VideoGo All-In-One program to download ad-free videos from YouTube.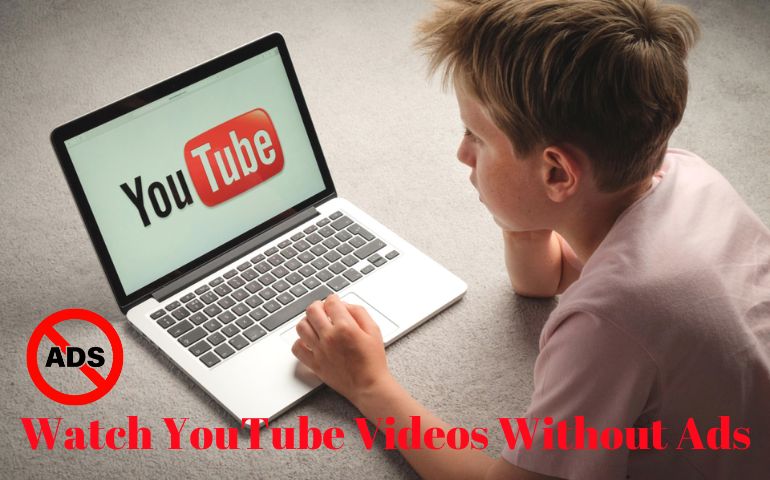 Method 1: Upgrade to YouTube Premium to Access Ad-free Videos
YouTube Premium offers a viewing experience by removing ads from all videos on the platform. Beyond ad-free content, this subscription service has additional benefits, such as offline downloads, background play, and YouTube Originals. Below is how to get YouTube Premium:
Step 1 Open the YouTube app on your mobile device or visit the YouTube website on your computer.
Step 2 Tap on your profile picture in the top right corner. Then select "Purchases & memberships."
Step 4 Choose "YouTube Premium" and follow the on-screen instructions to subscribe.
Method 2: Install An Ad-blocking Web Browser Extension to Remove Ads from YouTube
For those who prefer not to subscribe to a premium service, there are browser extensions and ad blockers that can effectively remove ads from YouTube videos. Popular options such as uBlock Origin and Adblock Plus. These tools work by preventing ads from loading on the YouTube page, giving you an ad-free experience. Here is how to use ad blockers and browser extensions:
Step 1 Install the ad blocker or browser extension of your choice from your browser's extension store.
Step 2 After installation, visit YouTube as you normally would.
Step 3 The ad blocker will automatically remove ads from videos as you watch them.
Recommended Browser Ad-blocking Extension Tools
uBlock Origin: A free and open-source, cross-platform browser extension for content filtering—primarily aimed at neutralizing privacy invasion in an efficient, user-friendly method. It can remove ads from YouTube videos and social media sites, as well as website takeover ads.
Adblock Plus: A free extension that blocks all annoying ads on the web, like YouTube video ads. It Even blocks pop-ups that are not blocked by your browser.
Method 3: Use VideoGo All-In-One to Download Ad-free Videos from YouTube
VideoGo All-In-One is a remarkable solution for those seeking ad-free YouTube video downloads at no cost. It is a versatile program that allows you to free download YouTube videos and remove ads from them, providing you with a seamless viewing experience offline. Not only does it eliminate ads from downloaded videos, but it also offers the flexibility to save content in high-quality MP4 format, with resolutions reaching up to an impressive 8K. This program empowers you to enjoy your favorite YouTube videos without interruptions while ensuring exceptional video quality.
It is available to both YouTube Premium and Free users. Whether you're archiving content for offline viewing or simply prefer an ad-free experience, VideoGo All-In-One is a versatile tool that caters to your needs, providing a seamless and visually stunning viewing experience. As an all-in-one video downloader, it can not only download videos from YouTube, but also supports over 15 streaming sites such as Netflix, Amazon Prime Video, Disney Plus, and more. With it, you can download movies and TV shows from those streaming sites without limits and watch them offline on your device without ads.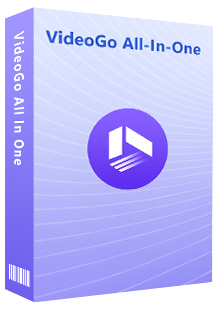 VideoGo All-In-One
A comprehensive tool for downloading unlimited videos from multiple streaming sites with ease.
Free download videos from YouTube, Facebook,Twitter, other webistes.
Download videos in 720p, 1080p, 2K, 4K or 8K.
Save YouTube videos as MP4 files.
Preserve original audio tracks and subtitles in multiple languages.
Play the downloaded videos anytime, anywhere without limits.
Download
Download
How to Use VideoGo All-In-One to Download Videos from YouTube
Step 1

Select YouTube as the Streaming Site

Launch VideoGo All-In-One and select the streaming site you want to download videos from. Then click the "OK" button to restart the program to open the YouTube website.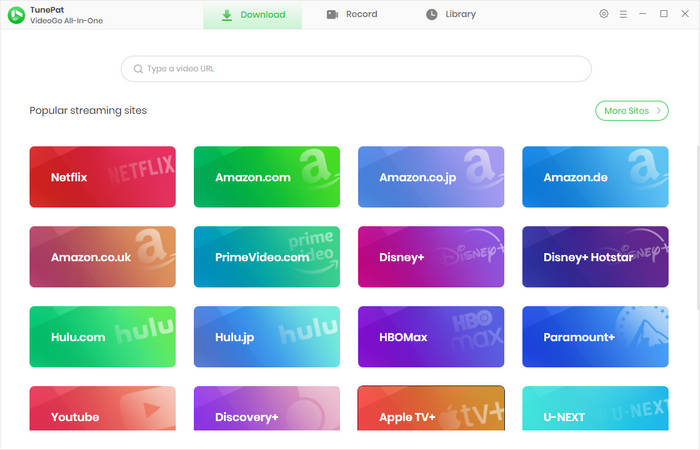 Step 2

Find YouTube Videos You Want to Download

Find the video you want to download on the YouTube website, and then copy the video's link and paste it into the search bar in the program to find the video.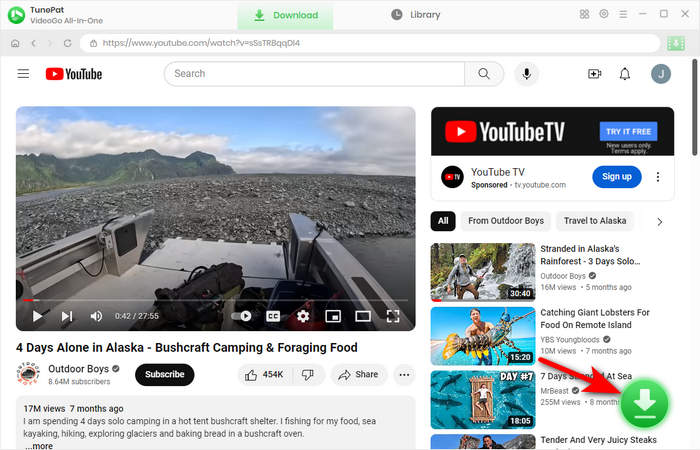 Step 3

Choose the Output Settings

Click the "Settings" icon on the top right corner to choose the video format, video quality, and other parameters you need.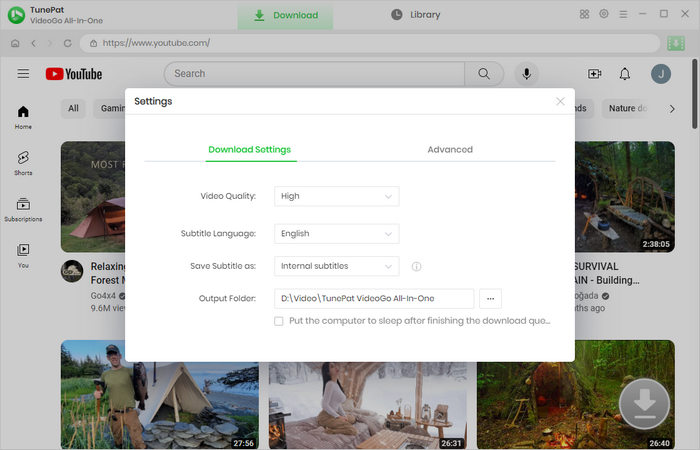 Step 4

Download Ad-free Videos from YouTube

Click the "Download" button to start the download process. Once downloaded, find the downloaded files in the "Library" tab.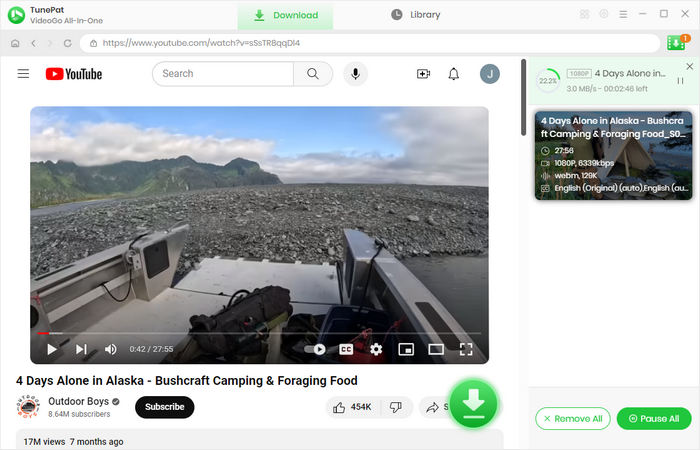 Conclusion
Ads on YouTube can sometimes detract from the viewing experience, but you don't have to put up with them. By upgrading to YouTube Premium, installing an ad-blocking extension on your browser, or using the VideoGo All-In-One program to download ad-free videos, you can enjoy your favorite content without disruptions. these methods empower you to tailor your YouTube experience to your preferences. It is simple and straightforward to access ad-free YouTube videos by subscribing to YouTube Premium for $13.99 per month. If you don't want to upgrade to a Premium subscription, we recommend using VideoGo All-In-One to download ad-free videos from YouTube for offline viewing instead of installing a browser extension. VideoGo All-In-One allows you to download ad-free videos from YouTube for free and allows you to save the downloaded videos forever and watch offline without limits.
Note: When downloading videos from streaming sites including Netflix, Prime Video, Disney+, Hulu, HBO Max, Paramount+, and Discovery+, the free trial version of VideoGo can only download the first five minutes of each video. To unlock the limitation, you are suggested to purchase the full version.