Paramount Plus is a great streaming service that gives subscribers access to the compelling original content and iconic hit movies. In spite of the fact that Paramount Plus shows and movies are easily accessible through the internet, many want the extra convenience of downloading Paramount Plus shows or movies to the computer. Paramount Plus has a download feature but the downside is that videos can only be downloaded on mobile devices running iOS 13 or Android OS 5+. What is even more frustrating is that video downloading is a premium feature only available on the Premium plans. It is unavailable to the Essential plans. In this case, many video downloaders provided by third parties have emerged to help download videos from Paramount Plus. And the great thing about using a video downloader is that you can watch Paramount Plus videos offline on any device.
VideoGo All-In-One is regarded as one of the most useful and popular video downloaders for downloading Paramount+ and is good at downloading ad-free videos from Paramount Plus, regardless of the subscription plans. It can help you download any movie or series you want to your computer or move the downloaded videos to any device with ease. The following article will introduce the features of the program and show you how to use it to download videos from Paramount Plus to PC.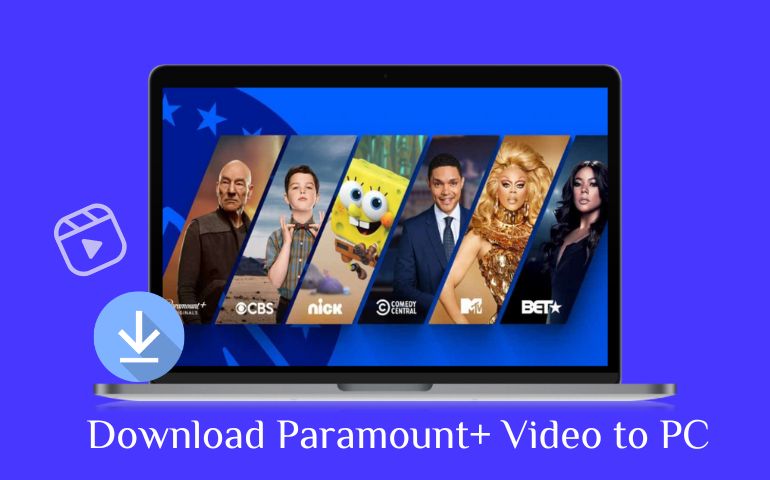 Key Features of VideoGo All-In-One
VideoGo All-In-One offers a more flexible and convenient viewing experience, allowing you to watch Paramount Plus videos uninterrupted, even without an internet connection. By using VideoGo All-In-One, you are able to save Paramount Plus videos as MP4 or MKV files so that the downloaded videos are compatible with your computer and other devices. This program comes with an intelligent search engine that supports searching for videos by name, keywords, or video links. Moreover, it provides various output settings that allow you to download Paramount Plus videos in HD quality and save multiple languages of audio and subtitles as well.
In addition, it is also an all-in-one video downloader that can not only download videos from Paramount Plus, but also download unlimited videos from Netflix, Prime Video, Disney+, and more sites. Utilizing this video downloader lets you get what you want and watch videos offline on any device without limits. Regarding video quality, VideoGo All-In-One has the ability to download videos in 1080p. It can even download YouTube videos in 8K. Most importantly, all downloaded videos are permanently stored on your devices, allowing you to watch them offline at any time, even if your subscription expires.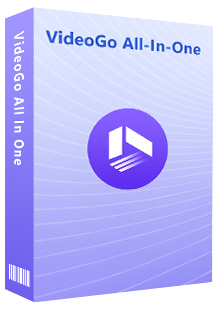 VideoGo All-In-One
A comprehensive tool for downloading unlimited videos from multiple streaming sites with ease.
Download movies & shows from more than 15 streaming sites.
Download videos in 720p, 1080p or 8K.
Save any video as MP4 or MKV files.
Preserve original audio tracks and subtitles in multiple languages.
Play the downloaded videos anytime, anywhere without limits.
Download
Download
How to Download Paramount Plus Video to PC?
Now we would like to show you how to use VideoGo All-In-One to download Paramount Plus videos to your computer. First of all, please download and install the latest version of the program on your computer. It works on Windows PC running Windows 7 or above and Macs running macOS 10.15 or higher version.
Step 1 Select Paramount+ Site
When you open the program for the first time, you will be asked to select a website to download videos. Please choose Paramount+ in the below window and click the "OK" button.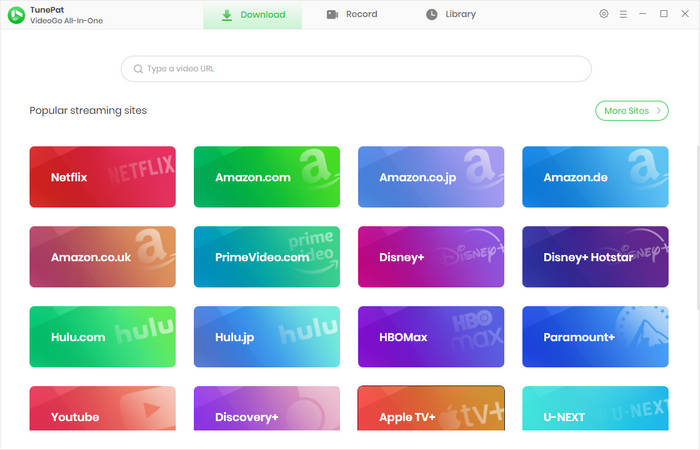 Step 2 Log in to Paramount Plus
Type any word into the search bar and press the "Enter" button on the keyboard, and then you will see the login window. Please enter your email and password to log in to Paramount+. Don't worry, the program won't record your personal information. Your account is only used to let the program have access to the Paramount+ content.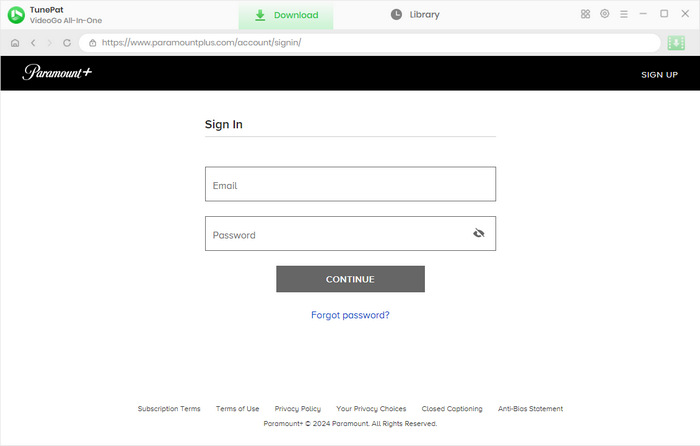 Step 3Choose the Regular Settings
Click the "Settings" icon on the upper right corner and choose the output settings from the pop-up window. In the "Download Settings" tab, you are allowed to choose video quality (High, Medium, Low), video format (MP4 or MKV), audio language, subtitle language, and more.
Besides, you can choose to download videos from another website and log out of your current account in the "Account Settings" tab. The "Advanced" option offers you to enable or disable the hardware acceleration and set the video codec as H.265 or H.264 as your need.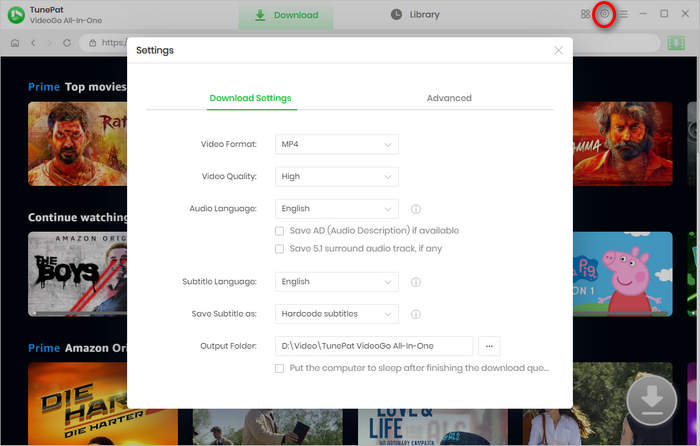 Step 4 Search for Paramount Plus Video
If you are streaming Paramount Plus on Chrome, you can directly copy and paste the link of a video that you want to download from the web browser to VideoGo. And the program will quickly find the video. Or you can also enter the video name or keywords into the search bar to find the video.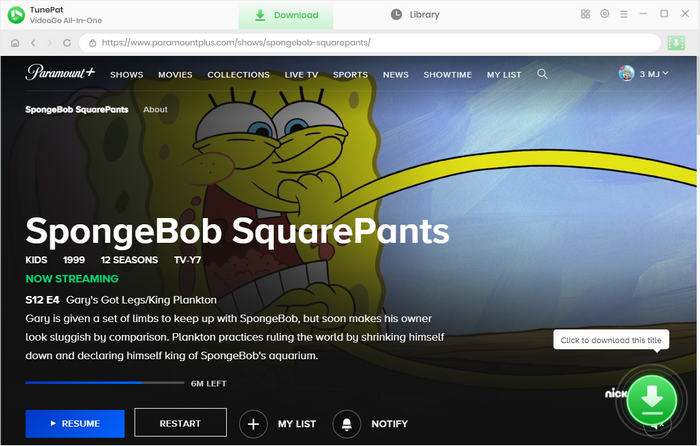 Step 5 Choose the Advanced Download Options
The advanced download options allow you to save Paramount Plus videos in different qualities and save audio and subtitles in multiple languages. When downloading a movie, click the

icon next to the "Download" icon. If you want to download a TV show, click the "Download" icon first, then you will see the "Advanced Download" button on the bottom left of the pop-up window.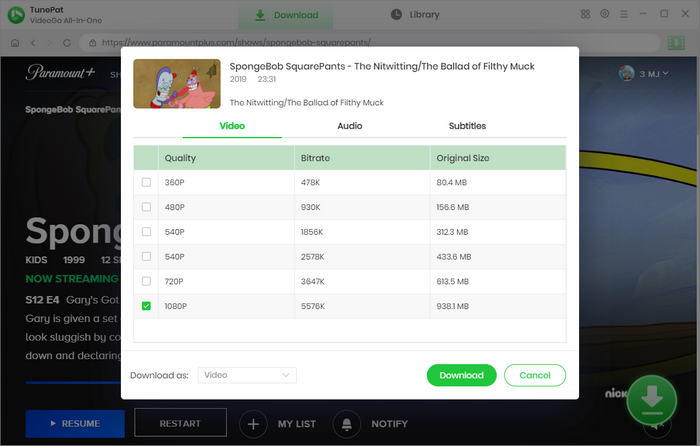 Step 6 Download Paramount Plus Video
Finally, click the "Download" button to download and save the selected videos on your computer. All downloaded videos can be found in the "Library" tab.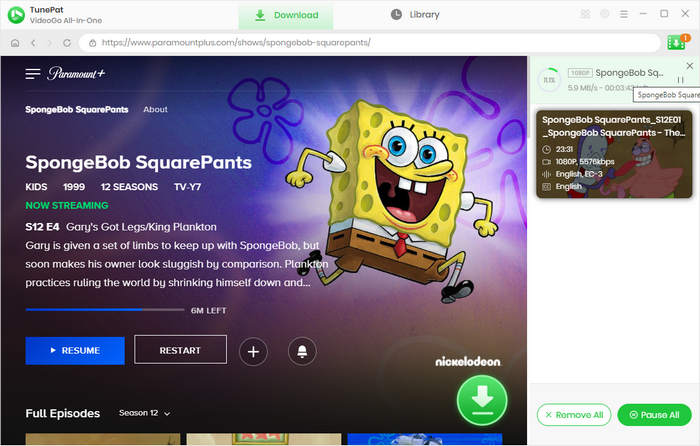 Conclusion
While Paramount Plus only offers Premium subscribers to download videos on mobile devices, VideoGo brings an alternative way to help all Paramount Plus users download videos on the computer. It supports downloading a large number of videos from Paramount Plus and saving them permanently to watch offline at any time. What's more, the downloaded videos are playable on any device as they are downloaded in MP4 or MKV format. If you want to try this powerful tool, just download the trial version and try it out for free.
Note: When downloading videos from streaming sites including Netflix, Prime Video, Disney+, Hulu, HBO Max, Paramount+, and Discovery+, the free trial version of VideoGo can only download the first five minutes of each video. To unlock the limitation, you are suggested to purchase the full version.