All Quiet on the Western Front, a new Netflix war movie, is getting rave reviews. It won four Oscars at the 95th Academy Awards in Los Angeles, International Feature Film, Cinematography, Original Score, and Production Design. It also picks up a surprise nine nominations. It premiered at the Toronto International Film Festival on September 12, 2022, and was released to streaming on Netflix on October 28. The film received positive reviews from critics and appeared prominently on best-of-2022 awards from film critics circles. It is a movie that is worth watching. Please read on and find more information about it.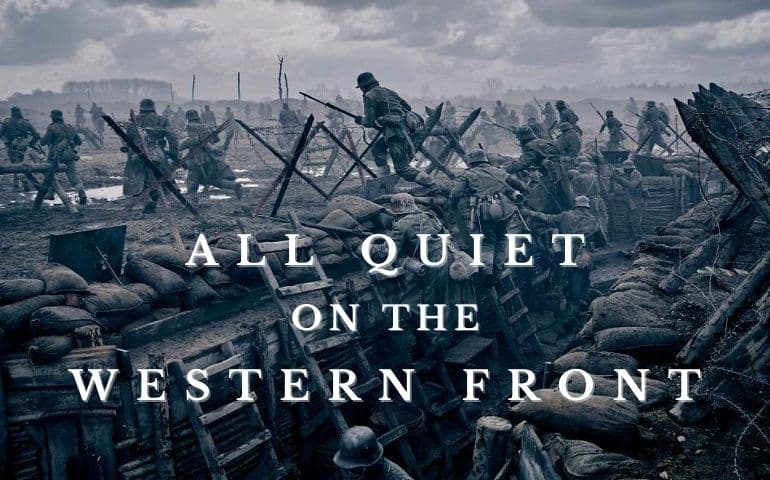 1. Introduction of All Quiet on the Western Front
Runtime: 2hours 28mins
Release Date (Streaming): Oct 28, 2022
Genre: War, History, Drama, Action
Director: Edward Berger
Cast: Felix Kammerer, Albrecht Schuch, Aaron Hilmer
This film chronicles the life of Paul Bäumer, a 17-year-old who endured traumatic events and distress on the Western Front during World War I. Paul enlists voluntarily in the German army along with his friends Albert and Müller. They begin as fervent patriots, but as they experience the horrors of life on the front lines, their preconceived notions of right and wrong quickly disintegrate. He shatters his early expectations of becoming a hero while trying to survive.
2. How to Watch All Quiet on the Western Front?
All Quiet on the Western Front is streaming on Netflix now and is available to all subscribers. This movie can also be downloaded to watch offline, but the download feature is only available to Netflix subscribers who have a Basic, Standard, or Premium plan. Plus, please noted that the video will not be stored permanently. Once it is downloaded, you have 30 days to watch it. And when you start playing the movie, you have to finish watching it within 48 hours.
3. Use VideoGo to Watch All Quiet on the Western Front
Based on the above situation, we strongly recommend you use a third-party video download software to help you download and store this movie. That is VideoGo All-In-One, a powerful video downloader that enables you to download unlimited videos and movies to your computer. Just like its name all-in-one, it not only supports downloading videos from Netflix, Amazon, Disney Plus, and other streaming services, but also supports downloading videos from some social platforms such as TikTok, Youtube, Vimeo, and more.
VideoGo All-In-One can help you download your favourite movies and shows even if you have a Netflix Basic with Ads Plan that doesn't offer a download feature. Videos can be downloaded up to 1080p, the clarity of which depends on your Netflix subscription plan. With VideoGo, you are able to enjoy ad-free videos and movies with multiple languages of audio and subtitles. Plus, you can watch the downloads on any device you want without limits as the videos are downloaded in the widely used video format (MP4/MKV).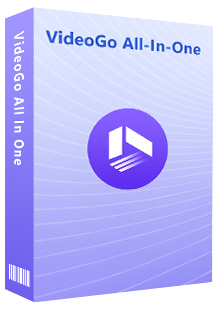 VideoGo All-In-One
A comprehensive tool for downloading unlimited videos from multiple streaming sites with ease.
Download movies & shows from Netflix without the Netflix app.
Download 1080p videos from Netflix.
Save Netflix videos as MP4 or MKV files.
Preserve original audio tracks and subtitles in multiple languages.
Play the downloaded videos anytime, anywhere without limits.
Download
Download
How to Use VideoGo to Watch All Quiet on the Western Front?
Step 1Select Netflix as Target Website
Download the latest version on your computer and run it. If you use it for the first time, you will be asked to select a site that you want to download videos from.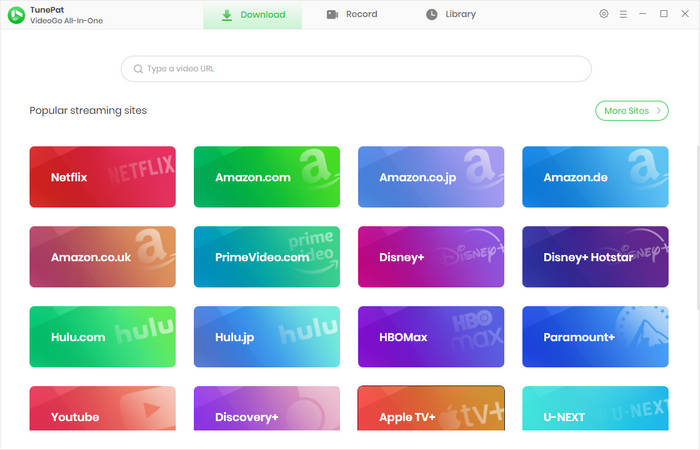 Step 2Log in to Netflix Account
Enter some word in the search bar to open the login window. Use your email and password to log in to the Netflix account. Your account is only used to access the library and download videos, and you can log out at any time.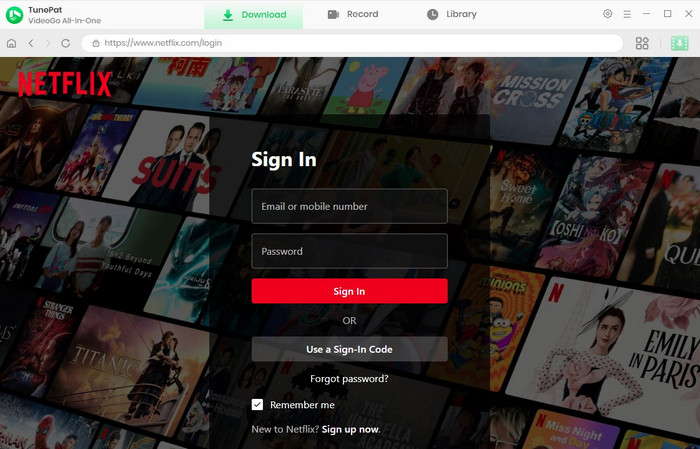 Step 3Set up the Video Output
You can set up the output of your video by clicking the "Settings" icon. You can configure the video quality, video format, the output path, and more. In addition, you can change the download website in the "Account Settings" tab.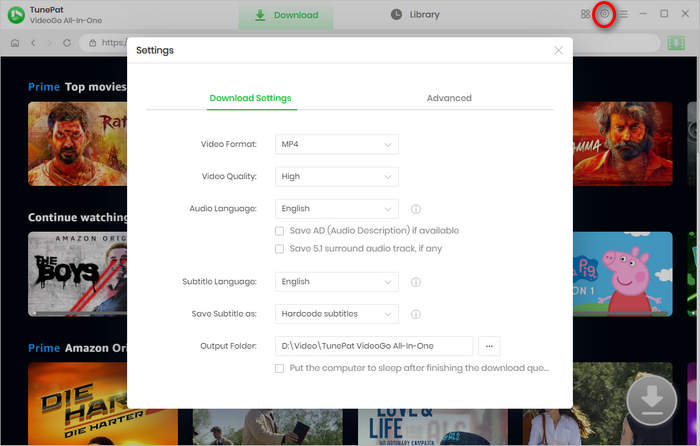 Step 4Use Name or URL to Search Video
Armed with a smart engine, VideoGo allows you to search videos in two easy ways without downloading the Netflix app. Just enter the name of the video or copy the link of the video from the Netflix web page into the search bar to find your desired video.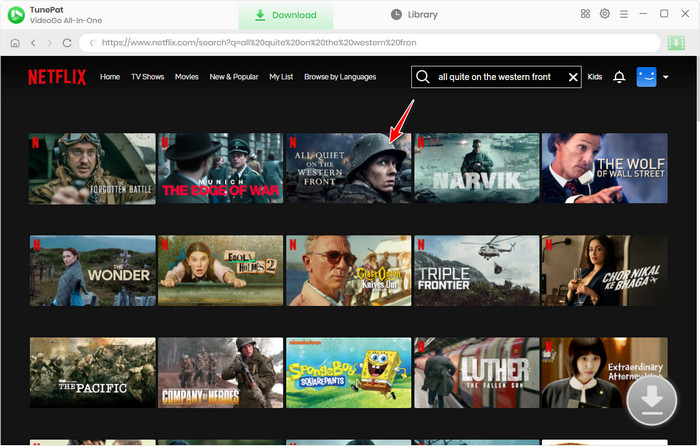 Step 5Customize the Advanced Settings
VideoGo enables you to choose more specific video quality with various bitrates and file sizes, audio tracks and subtitles in different languages in the "Advanced Download" settings. It is also possible to download the video, the audio or the subtitles separately. Click the icon

next to the "Download" icon to open the advanced download window as below. If you are downloading a TV show, this will appear at the pop-up window after you click the "Download" icon.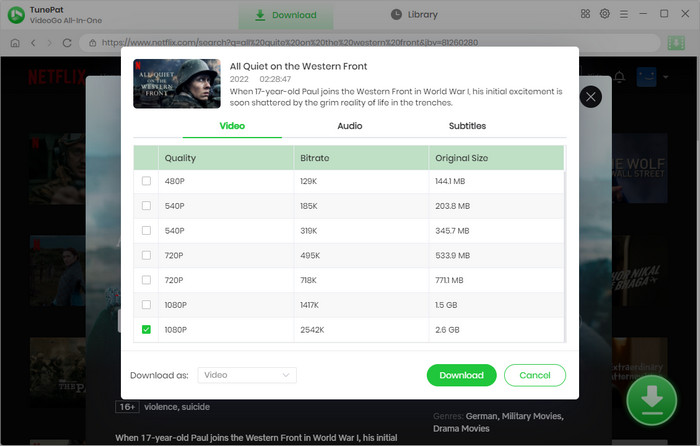 Step 6Download All Quiet on the Western Front
When finished setting up, click the "Download" button to start downloading the movie. On the right side of the program, you can see the video being downloaded and its related information. Once completed, tap "Library" to check the downloads and download history.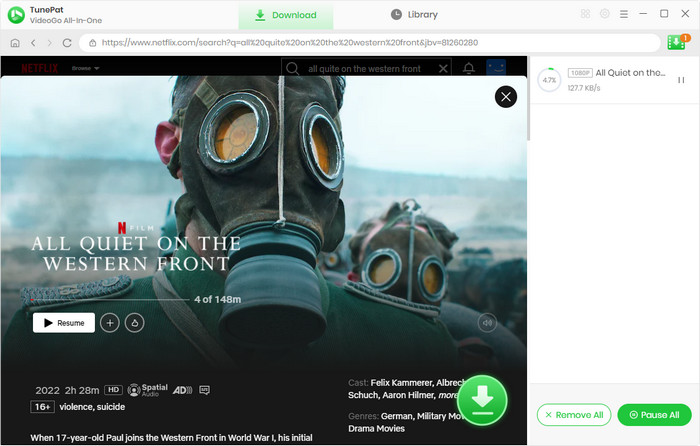 Final Word
The characters, the superb cinematography, the backgrounds and sets, and the sound effects all contribute to this exceptional film. If you are looking for a great war movie, you will absolutely love All Quiet on the Western Front. And we highly recommend you use VideoGo All-In-One to download this movie. It is designed for downloading HD videos and movies from streaming services and social media. It is also possible to download other Oscar-winning movies as you like. Just try it now.
Note: When downloading videos from streaming sites including Netflix, Prime Video, Disney+, Hulu, HBO Max, Paramount+, and Discovery+, the free trial version of VideoGo can only download the first five minutes of each video. To unlock the limitation, you are suggested to purchase the full version.