The Last of Us, which is currently airing on HBO Max, is already establishing itself as a huge hit. It premiered on January 15 and debuted with 4.7 million viewers. It takes place in 2033, 20 years after a pandemic that swept the world and destroyed civilization. A tough survivor named Joel takes charge of Ellie, a 14-year-old who might be the last hope for humanity.
The Last of Us can be viewed online or downloaded to watch later when the internet is poor. HBO Max offers the option to download content for offline viewing. Please be aware that you can't take advantage of the download feature when you subscribe to its basic ad-supported plan since the capability is only available with the Ad-Free plan, which costs $15.99 per month.
It should also be noted that its download capabilities are somewhat limited. First of all, you can only download videos and movies on your mobile devices, like Android, iOS, and iPadOS. The downloaded shows can only be viewed through the HBO Max app. Second, the number of downloads is also limited, up to a total of 30 downloads (across all profiles and devices). Last but not least, when your subscription ends, you don't have any access to your videos even if you have downloaded them. If you want to solve the above problems, try using VideoGo All-In-One.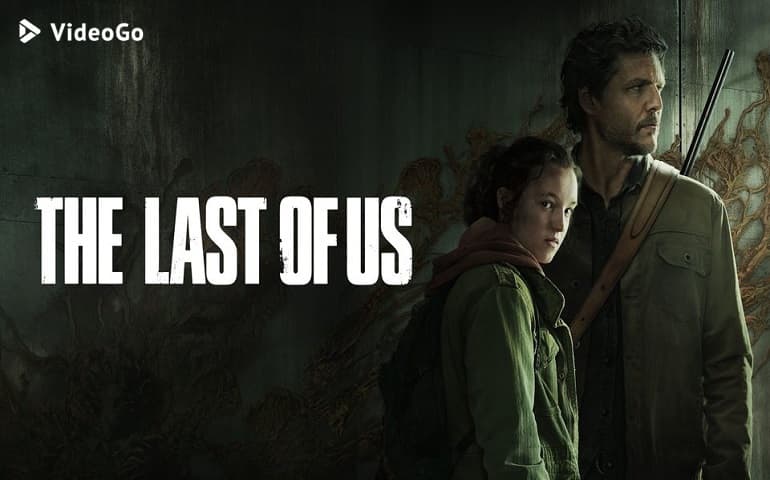 What is VideoGo All-In-One?
VideoGo All-In-One is arguably one of the best performing downloaders on the market so far. In terms of functions, features, and price, it's hard to find a software that can beat it. It can assist you in downloading unlimited videos and movies from multiple platforms, such as Netflix, Amazon, Disney Plus, YouTube, TikTok, and more. You don't have to worry if you subscribe to a plan without the download feature on some streaming services, like HBO Max. VideoGo empowers you to download ad-free videos on the computer and also move them to other devices.
The steps to download HBO Max videos are quite easy. Only several steps to get an HD video. VideoGo supports downloading any HBO Max content with high resolution (up to 720p) and storing them in widely used MP4 or MKV format. By doing this, you can watch HBO Max shows on any device and keep them forever.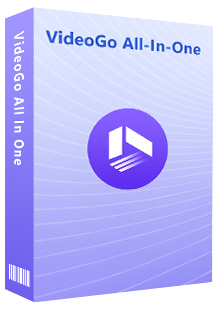 VideoGo All-In-One
A comprehensive tool for downloading unlimited videos from multiple streaming sites with ease.
Download movies & shows from HBO Max/Max.
Download HBO Max/Max videos in HD quality (up to 720p).
Save HBO Max/Max video as MP4 or MKV files.
Preserve original audio tracks and subtitles in multiple languages.
Play the downloaded videos anytime, anywhere without limits.
Download
Download
How to Use VideoGo All-In-One to Download The Last of Us?
Step 1 Choose the Website and Log in
After installing the latest version of VideoGo All-In-One, launch it on your computer. You need to pick the site first from which you want to download videos. Choose "HBO Max" and tap "OK", and then the program will restart and jump to the corresponding platform. Enter any word into the search bar to open the login window. Use the email and password to log into your HBO Max account to get access to the content library.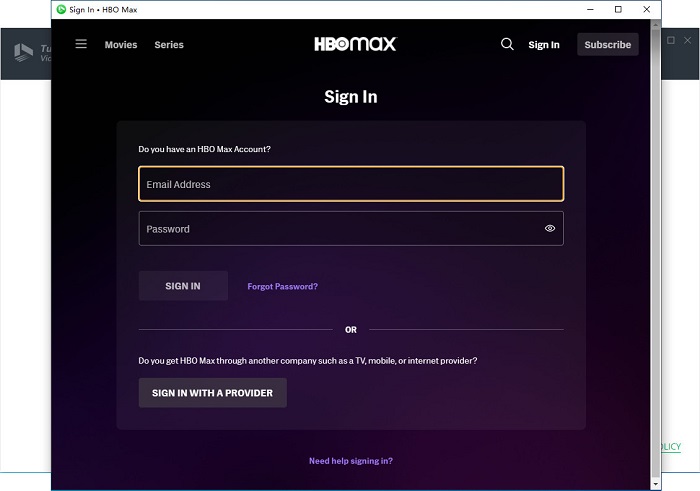 Step 2 Select the Output Settings
Before searching for the video, you can set some parameters for your downloads, such as the video format, video quality, and more. You can also download audio and subtitles in different languages along with 5.1 surround audio (if have).
You can perform the above-mentioned settings by clicking the "Gear" icon in the upper-right corner. There is also an "Advanced" tap that allows you to save videos in H.264 or H.265 format, which means storing HD videos while in smaller file sizes.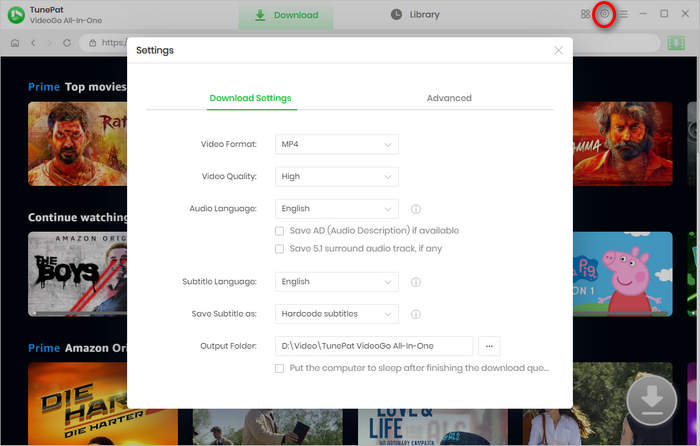 Step 3 Search for The Last of Us
Because of its powerful search engine, you can search for the video directly within the program by typing the video name. Or you can copy the link of the video from the official website to find it.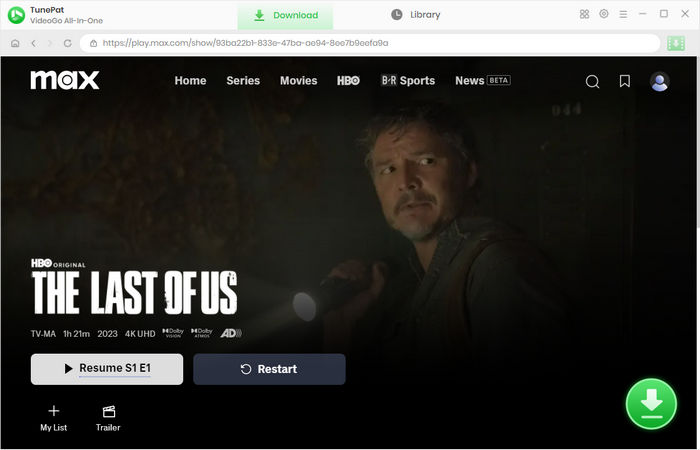 Step 4 Customize the Video in More Detail
Find the video that you want to download and click the "Download" icon. It is so convenient that VideoGo features the ability to batch-download all episodes. You can add a season or full seasons of videos to download with one click.
VideoGo enables you to customize the downloads more specifically, including video quality, audio languages, and subtitles languages. With the same video resolution, the bit rate varies, and so does the size of the video file. You can choose and download it according to your needs.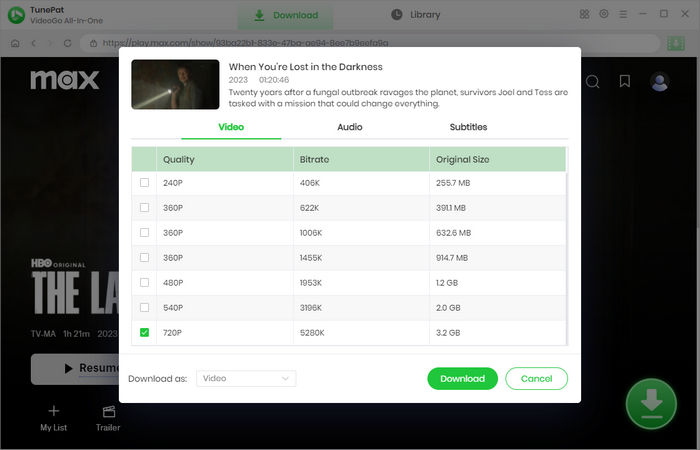 Step 5 Start Downloading The Last of Us
When everything is set up, click "Download" button to start downloading The Last of Us. During the download process, you can continuously add the videos you want to download. Once completed, tap "Library" to check the downloaded video.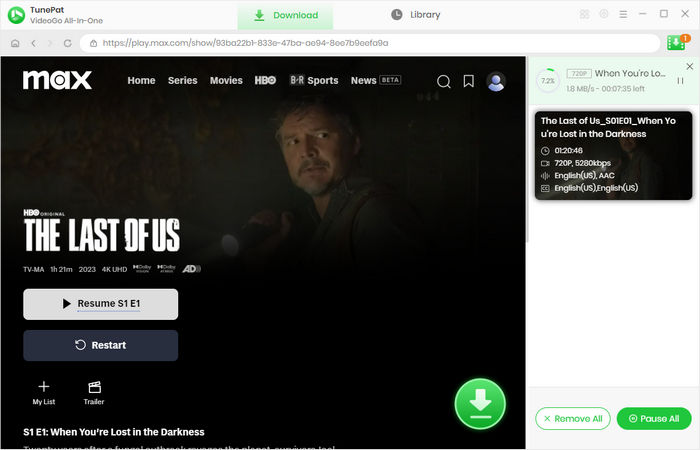 Final Word
Using VideoGo All-In-One to binge-watch The Last of Us is the ideal option. With it, watching videos and movies offline becomes much easier. You can watch the downloaded videos and shows from HBO Max anytime and anywhere without the hassle and save them permanently on your device.
Note: When downloading videos from streaming sites including Netflix, Prime Video, Disney+, Hulu, HBO Max, Paramount+, and Discovery+, the free trial version of VideoGo can only download the first five minutes of each video. To unlock the limitation, you are suggested to purchase the full version.